Not all calcium supplements are created equal. Caltrate contains calcium carbonate, the most concentrated form of calcium available.
Calcium supplements are generally made with one of two sources of elemental calcium: either calcium carbonate or calcium citrate. Calcium carbonate, the form of calcium found in Caltrate, is the most concentrated form and is commonly found in food.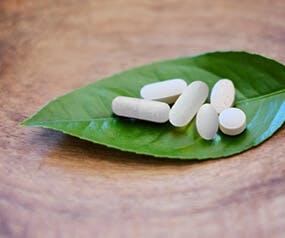 Most supplements supply calcium in the form of calcium carbonate. Calcium carbonate, is more concentrated, allowing for smaller or fewer tablets.
Let's compare the two forms:
Calcium carbonate – Caltrate
Concentrated form of calcium
Each tablet yields about twice the amount of elemental calcium in products containing calcium citrate
Available in smaller-sized tablet than products containing calcium citrate1
Calcium citrate
Bulkier form of calcium
Each tablet yields about half the amount of elemental calcium contained in products using calcium carbonate
Requires more tablets or larger tablets to be taken to meet the recommended daily calcium intake
References:
1.Caltrate Product Detailer 2016