Calcium is a common mineral found in the body. It is used for the formation of bones and bodily functions such as muscle contractions and blood clotting. Vitamin D helps your body maximise calcium absorption, and is essential for healthy bones.
Where do you get these nutrients?
Vitamin D is found in a limited number of foods, such as eggs and certain types of seafood. Your body also produces vitamin D in response to sun exposure. Calcium is found in foods such as milk, leafy green vegetables and soybeans.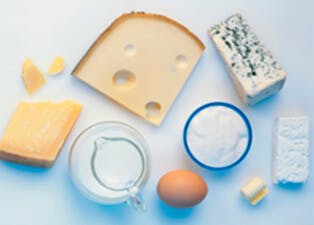 How your body uses calcium:
Calcium combined with other minerals provides structural strength to bones. A small amount of calcium is absorbed into the blood and is essential for functioning of the heart, muscles, blood and nerves. Calcium is stored in the bones as a 'calcium reserve'. When your body isn't getting enough calcium, it may take some from the 'calcium reserve' in your bones and redistribute the calcium to where your body needs it.1
Bone loss can gradually begin from our mid-30s.2,3 This effect is compounded further during menopause, when a decrease in oestrogen levels accelerate bone loss due to resorption.
As we age, increased levels of calcium and vitamin D are necessary to maintain bone health.
Maintaining good bone health:
Regular exercise and a calcium-rich diet can help build and maintain good bone health and may reduce the risk of osteoporosis later on in life. It's important to maintain a diet with enough calcium and vitamin D, together with other nutrients, including magnesium to help support bone health.
An Australian Health Survey found that nearly three quarters of females (73%) and half of all males (51%) aged two years and over were not receiving adequate calcium from their diet.4
Key Points
It's important throughout all stages of life to maintain a diet rich in calcium and vitamin D. This helps build strong bones early on, maintains strength, and helps to reduce the risk of osteoporosis later in life.
Menopausal and post-menopausal women are at an increased risk for a decline in bone mass. Taking Caltrate as a source of calcium and vitamin D in conjunction with a healthy diet and exercise may help prevent osteoporosis when calcium dietary intake is inadequate. Consult your healthcare professional for information about your health needs.
References:
1. Osteoporosis Australia (2015), Calcium. Available at: http://www.osteoporosis.org.au/calcium [Accessed 20 January 2016]
2. Access Economics Limited (2001). The Burden of Brittle Bones: Costing Osteoporosis in Australia. Prepared for Osteoporosis Australia by Access Economics. ACT, Australia Sept 2001
3. Lee R E (1985) Restoring lost bone in Osteoporosis, Can Med Assoc J, Vol 133, 1985, p847-850
4. Australian Bureau of Statistics (2011), Australia Health Survey: Usual Nutrient Intakes, 2011-12 http://www.abs.gov.au/ausstats/abs@.nsf/Lookup/by%20Subject/4364.0.55.008~2011-12~Main%20Features~Calcium~401 Last Accessed 06 February 2016